Dedicated to Providing High-Quality Services
Hop To It Organizers, LLC is focused and dedicated to providing exceptional, customized organizing services to our home and business clients.
---
Welcome! I'm Michelle Rosen, pro organizer and owner of Hop To It Organizers, LLC. I was once asked why I wanted to deal with other people's stuff. Here's my answer: It's not about the stuff, it's about the people.
Back in 2005 when my parents' family home burned down to the ground, I learned that the real value in life isn't in things we own, but in our relationships and quality of our life.
When clients work with me to organize their kitchens, bedrooms, linen closets, offices, and schedules, I'm helping them to experience more joy, calm, creativity and productive living and working in their space. When I work with someone, to get them through a tough spot and see the relief on their face it just brightens my whole world. It may sound corny, but, it's how I really feel.
I bring this passion to you when I work with you!  I am dedicated to providing quality services to my clients.
Professional Credentials
After earning my baccalaureate in Organizational Psychology, I managed child care centers when my children were young (yes, I can help get your playroom organized). I then went on to work in IT for over 15 years, where I enjoyed developing software.
Work with Hop To It Organizers today and have a spring in your step tomorrow
---
What's in a Name?
How did Hop To It Organizers, LLC get its name? Here's the backstory:
The phrase "hop to it" means to get to something quickly, without delay. Dictionary.com defines this idiom as "Begin to do something quickly and energetically"*


When you're trying to make a change, starting small, a little hop, can set you on your way. Keep making hops and you'll get closer to your intended result.
A hop is an action, however small, towards what you want to achieve. I believe this is true in anything you are trying to achieve in life. The word "hop" in our name has significance:
"H" = "Home"
"O" = "Office"
"P" = "Productivity"
These are the areas of our services that we can help you with.
In order for you to "hop to it", you'll need to know what "it" is. In other words, what is your desired outcome? We believe in setting clear, achievable outcomes and goals to work towards.
With the right goals, set the right way, for the right reasons, you can have successful outcomes and ultimately, feel happier and more satisfied with your life.
---
The Story Behind Our Logo
Our logo was created with thought behind it. You may have noticed it's in the shape of a house. That shape represents the parts of our business model of home and office organizing, and it also represents something more.
A house rests on a foundation that is strong. So strong that it can hold the house, with all its framing and materials, the furniture and appliances that go inside, and the people who live in it. An organized and productive office, whether it's for your home or small business, helps keep a roof safely overhead.

Your home is a place that is meant to support you and your life, and work for you. Your home is your haven, whether it's big or small. Having an organized office can provide you with a place to think creatively, get important work done, communicate more effectively with others, and create more wealth.
Do you notice the dashed line that seems to hop contained within the shape of the house? It represents our philosophy of starting small and with haste. There's a secret about that dashed line that I want to share with you. The shape was created using two connected circles. You can only see the top part of the circles inside the house, forming the "hop". The bigger circles, which you might be able to use your imagination to see, represent cycles of continuous improvement.
You make a hop, then reflect, adapt if you need to, cycle back, and make another hop. Keep hopping, keep improving, continue to persist, looking back to inform your future.
The dashed line also represents a sense of optimism in that the line has a lightness and a "spring" to it. You may face challenges and difficult times, but having a positive frame of mind can help you go along and keep at it. We provide motivational support to our clients during and after their process so they can keep going.
---
Well, Color Me Hoppy!
The colors of our brand are reflected in our logo.

White
Calm
Clarity
Positivity
Mindfulness
Safety
Blue
Loyalty
Order
Peace
Stability
Trust
Green
Abundance
Endurance
Environment
Harmony
Hope
---
Next Steps
Our mission is to collaborate with our clients as they strive for order, organization, increased productivity, and calm well-being in lives and businesses. Our goal is to collaborate with our clients, share knowledge, and help remove impediments during their organizing process or transitional event.
If you're ready to get started, call (443) 741-2575 or head on over to our contact page and send us a message.
If you want to know more about our specific services please visit the page most appropriate for your situation:
New marriage, divorce, baby, empty-nester, living with clutter?
Go here: Home Organizing
Transitioning between homes and need help organizing for your move?
Go here: Moving & Relocating
Ready for aging in place or rightsizing, or thinking about it?
Go here: Aging in Place or Senior Rightsizing
---
Association Memberships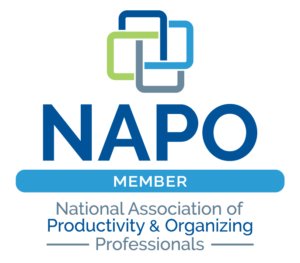 ---
Professional Certifications & Achievements


* hop to it. Dictionary.com. The American Heritage® Dictionary of Idioms by Christine Ammer. Houghton Mifflin Company. http://www.dictionary.com/browse/hop–to–it (accessed: August 23, 2017).