How to Create a Beautiful, Clutter-Free, and Organized Guest Room

This post may contain affiliate links to products that Hop To It Organizers, LLC likes, recommends, or uses. We participate in the Amazon affiliate program and when you purchase a product using the links we've provided, we may earn a small commission at no additional cost to you. Plus, you'll be helping us to continue sharing resources with readers like you.
The holidays are still some time away, which is why it makes sense to set up your guest room now so you don't have the stress of it later.
Is your guest room so cluttered that it's FUBAR? In this post, I'm going to give you some ways to take back that space so that it's clutter-free, organized, functional, and dare I say, beautiful.
Discover How to Avoid Holiday Guest Stress This Year
Imagine Your Ideal Guest Room Space
Before lifting one finger to tackle that space, I want you to do what I tell each of my clients before we start on their project. If you haven't already thought about how you want this space to turn out, you need to do that first. It's even better if you write out your ideas for your ideal guest room. Without a defined ideal in mind, it's going to make it tougher for you. It's important to have that focus.
Ok, now that you have that behind you, it's time to survey the lay of the land. Have you allowed your guest room to become the "junk room"? If you are nodding your head yes right now, don't feel bad. You are definitely not alone. If you've gotten into the habit of tossing items in and promptly shutting the door right after, that needs to be dealt with first.


Make Your Guests Feel Special
Is your guest room going to be a dedicated guest room or a multi-functional space? Either way, you can adapt the tips that follow to fit your space and situation. How do you want your guests to feel when they stay? Welcomed? Comfortable? Keep reading and discover some great ideas of things to have on hand to make them feel that way.
Have Nice Sheets and Towels Stored Smartly
The number one nice touch in a guest room is the sheets on the bed. A nice quality set of sheets goes a long way to make your guests feel they are welcome and special. Patterned sheets are fine, but I am partial to clean and crisp white. White will coordinate with almost all bedding patterns as well as have the added benefit of being able to be treated and washed in hot water to remove stains. According to a Southern Living post, a 350 thread count for percale or 500 for sateen is what you want to look for.
Get a 1-page stain removal PDF guide here
After guests leave and sheets have been laundered, you can put the sheets back on the bed ready for the next guests, or store them away. If you choose to store them, a good option is right in the guest room. This way they are not taking up space in your more frequently used family linen closet and they are right at hand when you need to make up the bed. Some great storage options include having a chest at the end of the bed to hold linens and pillows, a storage ottoman (we have one similar to this) affiliate link, or sliding them into under-the-bed storage containers.
Invest in some nice quality, hypo-allergenic pillows. Provide an extra blanket in the closet or at the end of the bed for your guests to use on chillier nights.
Have a set of newer good quality guest towels and hang them on the back of the door prior to your guests arriving. You could also fold and place them on top of a dresser or arrange them in a separate guest bath if you have one. You need one bath towel, a hand towel, and washcloth per guest.
Go the Extra Mile With Thoughtful Essentials
Create a welcome basket stocked with essentials. Here are some options you can include:
Travel sizes of shampoo and conditioner
Travel toothpaste, toothbrushes, and flossers
Lotion
Packets of general pain relievers such as Tylenol and Advil
A few water bottles
Disposable razors
Snacks and treats such as granola bars, fruit snacks, and small chocolates
Sunscreen
Bug repellant
Small first aid kit
Small tabletop or hand-held mirror
| Get help decluttering and organizing |
Make Coffee and Tea Drinkers Want to Hug You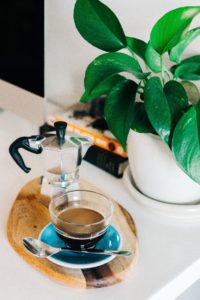 Another thoughtful add-on is a coffee & tea station. I went to my local thrift shop and found a mini-coffee maker for this. You could also use a coffee maker that uses K-Cups (this one is my favorite) affiliate link. Add some non-breakable or disposable cups, and a small supply of sweetener and creams, with a couple spoons or stirs. You can store a small basket on the dresser top or on a wall shelf.
Get Hung Up on the Details
Get a foldable suitcase stand to make unpacking easier.
Offer other conveniences for your guests including places to hang and put-away folded clothes. Have a couple of dresser drawers empty, ready and waiting. Make a little room in the closet or place an over-the-door rack for hanging dresses and suits. Add a full-length mirror on a wall or back of the door, too.
Provide Thoughtful Extras That Count
Other nice touches include a nightlight to light the way to the bathroom in the dark hours. Also, have a calendar in the room and a notepad and pen. Create an information sheet or small book (made out of a photobook) that includes your home address, phone numbers, wifi name and password, and a few fun activities to do in your city.
Don't forget these other things to really make guests feel like you've thought of ALL the details. A small trash can, tissues, a hair dryer, and an alarm clock. Leave some reading materials such as recent copies of magazines and books that will align with your guests' interests.
Provide a charging station for your guests' devices. Just plug in a power strip in a convenient place and that's all they'll need.
What else can you think of to really make your guest room shine? Please share in the comments!